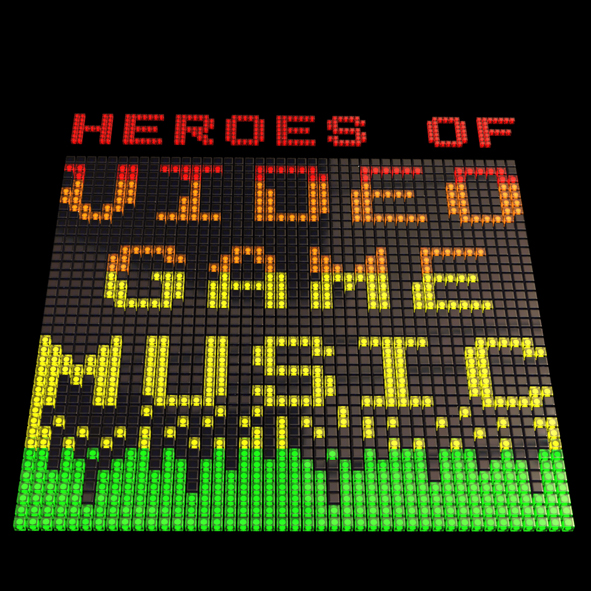 A new project which aims to create a video game music album hits Kickstarter. It is set to feature work by over 20 artists including Commodore 64 legend Rob Hubbard. Read on for more information.
From the press release:
Over twenty internationally renowned video game composers and sound designers will be celebrated in Heroes of Video Game Music, a new Kickstarter project launched today and running until July 28th. Spearheaded by former Sony/Psygnosis composer and Dolby surround sound evangelist Rik Ede, the crowd-funding campaign aims to enable the creation of a download and DVD album of tracks created by some of the industry's most experienced and respected game composers.
The project is officially sponsored by Dolby and by The Chairworks recording studio in Leeds, and will see musical talent from all eras of games contributing a variety of styles to the final track list, from classic 8-bit chip-tune pieces through to more AAA-styled orchestral and cinematic offerings. Utilising Ede's extensive experience working for Dolby, every track on the finished album will also be mixed in full 5.1 surround sound.
The goal of the project is to showcase and celebrate a sector of game development that is often overlooked, as Ede explains: "I've had the privilege of working with some of world's best game composers and sound designers over the last 20 years, and they truly are the unsung heroes of the development process. I'm hoping that this project will start to shine a light on their considerable talents and allow gamers to appreciate the vital role they play in bringing games to life."
Ede, himself an accomplished game composer and audio technology consultant in his own right (with credits that include GTA: Vice City, Singstar and the seminal WipEout), has been humbled by the calibre of the artists who have signed up to the project. Among the line-up are retro and modern audio legends, as well as composers working with the current crop of up-and-coming indie developers. The list includes:
Alexander Barron (Unreal, Deus Ex and Skyrim)
Robin Beanland (Donkey Kong Country, GoldenEye 007 and Killer Instinct)
John Broomhall (Heavenly Sword, Guitar Hero and Forza)
Tracy W Bush (World of Warcraft, Diablo II)
Matt Furniss (Mortal Kombat series, Excite Bike 64 and Lemmings)
Gavin Harrison (Catcha Catcha Aliens, Gunslugs and So Hungry)
Tim Haywood (Shadow Man)
Rob Hubbard (Monty on the Run, Commando and Sanxion)
Nathan McCree (Tomb Raider series, Silent Hill: Downpour)
James Scott (Gears of War series, Unreal Tournament series)
Tim Wright aka CoLD SToRAGE (WipEout, Lemmings and MTV Music Generator)
The confirmed artists involved are excited to be part of the project, as WipEout composer Tim Wright explains: "In my humble opinion, Rik Ede's experience with surround technologies makes him one of the few people in the world qualified to entertain such a project, and I'm delighted to be a part of it." Shadow Man composer Tim Haywood agrees: "I am very excited about being involved in this production, Rik has long being an ambassador for surround sound and I feel honored to be included."
The Kickstarter campaign is aiming to raise £7000 to contribute to the recording and mixing of the album, and is offering a variety of backer rewards that are designed to continue the project's intent to showcase and encourage the best audio talent. Audio students are able to pledge to attend an exclusive game audio workshop with Ede at The Chairworks, while budding sound engineers can also back the project in exchange for a day behind-the-scenes or the chance to mix their own track for the album. Dolby's sponsorship also includes a unique launch event at its Soho cinema screening site in London, where guests will get to experience a selection of the tracks and other game content in the brand new Dolby Atmos sound format. Limited tickets for the red carpet event are also available via the top reward tier.
For more information please visit the official Kickstarter page here: http://kck.st/126sEhs and follow the project on Twitter (@HeroesOfVGM) and Facebook (facebook.com/HeroesOfVGM). The campaign will be live until midnight BST on Sunday July 28th .