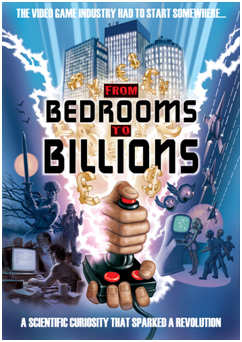 From Bedrooms to Billions – the independent movie celebrating the growth of the UK video games industry – hits Indiegogo for funding.
Every now and again throughout history, something happens that spawns an entirely new industry and changes the world forever. In the past it may have been the harnessing of electricity, the invention of the combustion engine, the creation of moving images – each time some of the most creative minds of the time push the technology and technique further and further to shape our future.
In my childhood the great new tech and subsequent gold rush, was home computing and video games. Back in the 80's anyone could write a successful video game from their bedrooms. All you needed was a good idea and the skills and patience required to master development for one of the popular home computers. Some of our best loved and most successful games of the day were created by school children with a passion for creating something awesome.
The video game industry in these days wasn't dominated by a handful of large studios, but by young start-ups, finding their feet in an industry that was literally inventing itself – and the UK played a huge part in its growth.
A little while back, I was contacted by filmmaker Anthony Caulfield. He explained that he was working on a movie intended to document and celebrate the UK games industry at the dawn of the home computing era. Inevitably, we spent some time reminiscing about our old gaming memories and discussing the part the UK played in the rise of video games. Anthony talked about some of his ideas for the movie and I have to say, I was quite excited!
Now, Anthony and Nicola Caulfield have launched an Indiegogo campaign to raise funds for the movie, complete with video footage of them explaining their vision and a short trailer for the movie itself – which promises to be all kinds of awesome.
The pair are offering some great perks for contributors, including some exclusive and custom artwork from the legendary artist Oliver Frey!
Several of the perks include exclusive 'From Bedrooms to Billions' t-shirts which will of course be printed by our good selves.
Head on over to the Indiegogo campaign page now and donate some cash to get this fantastic project off the ground. Find more information at the official 'From Bedrooms to Billions' website: http://www.frombedroomstobillions.com