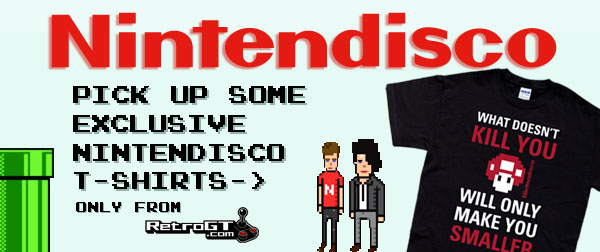 Retro GT are very pleased to announce that we've teamed up with the dudes at Nintendisco to bring you their range of t-shirts, including an exclusive (and totally awesome) Mario inspired mushroom t-shirt.
If you've not yet heard of Nintendisco then you're in for a treat: Nintendisco is a brand new retro gaming club night bringing classic gaming and new music together in a cool, alternative and friendly environment. Run by Dave Fade and Nicky Biscuit. Music, boozing, gaming and dancing all in one place.
Since their inception in 2010, Nintendisco have impressed audiences at gaming events and club venues all over London and some other lucky areas of the UK. You may have seen them at Eurogamer, Replay Expo, London Gaming Con or the 3Ds launch party – but inbetween gaming events you can find them putting on nights in East London, or touring up north. Check out their website for details of where to find them next.