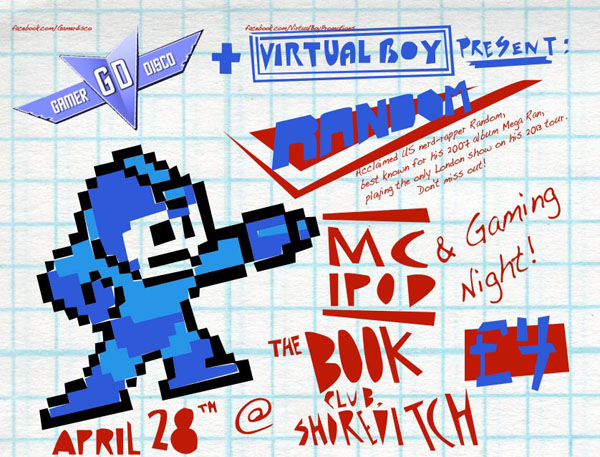 Gaming night organisers Gamerdisco announces their next awesome event:
GAMERDISCO and VIRTUAL BOY PROMOTIONS are excited to bring you the most unique night of 2013, when acclaimed US Nerdcore rapper RANDOM (a.k.a Mega Ran) drops into London as part of his Spring 2013 UK tour, supported by Cambridge's nerd-rap hero MC I Pod.
On 28th April the Random/MC I Pod tour rolls into The Book Club in Shoreditch, and we're celebrating with a huge blowout gig and clubnight! Alongside live sets from Random and MC I Pod, we will be running Gamerdisco's legendary gaming clubnight, featuring the best old-skool games on a big screen to play with your mates, alongside DJ's, competitions, tournaments, and retro consoles.
Blending live music and gaming into a one pounding night, we're giving you the opportunity to experience the lyrical mastery of Random in an intimate basement setting as part of the most unique night out of the year. That's not all! Having just passed the 5th Anniversary of Random's 'Mega Ran' album and the 25th Anniversary of the first 'Mega Man' game, we're dedicating the night to the one and only Blue Bomber! Expect to see exclusive prizes, a Marvel Vs Capcom 2 Mega Man characters tournament, and a Speed Run competition to find the Ultimate Robot Master! Mark your diaries, you won't want to miss this!
Hailing from Philadelphia, USA, Random has spent the last half-decade amassing an expansive fanbase in through his impressive lyricism and use of videogame samples. He is best known for his 2007 album Mega Ran, a tribute to the Mega Man game series, and his subsequent collaborations with Capcom on soundtracks for games like Marvel Vs Capcom 2. His last record, 2011's Black Materia, was based on the Playstation game Final Fantasy VII. He is joined on his week-long jaunt around the UK by Cambridge's M.C. I Pod, a pop culture and hardcore-sampling dude who has previously supported Pete Doherty, MC Lars, and Dan Le Sac.
Check out their Facebook page.